Garden Diary - April 2006
---
If you have any comments, observations, or questions about what you read here, remember you can always Contact Me
---
April
---
Sunday, 30 April 2006
Dogtooth Violets
Dogtooth violet. At first glance the name is a puzzler. The flower looks more like a miniature lily than a violet, and there's nothing to be seen that resembles a dog's tooth. Unless, that is, you have X-ray vision. The underground corm does indeed resemble a dog's canine tooth. Other common names: fawn lily, adder's tongue, and trout lily, are said to refer to the mottled leaves of Erythronium americanum,our native Eastern species.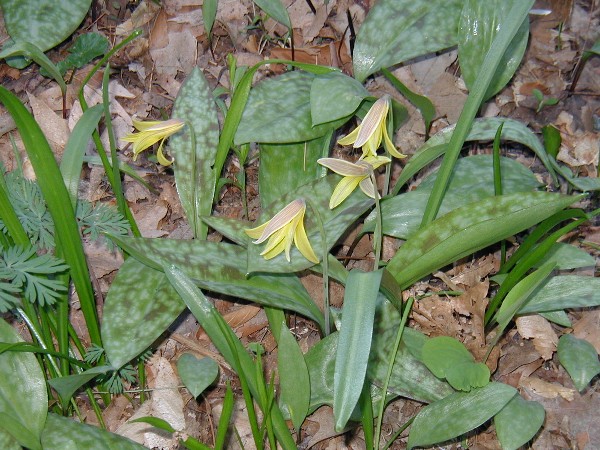 Early morning finds the flowers of Erythronium americanum still partially closed,
showing a camouflaging brown flush on the back of the outer petals.
Woodland plants, all except one species are native to North America. And the majority of those are found in the western states of California, Oregon, Washington, and in British Columbia. Some are relatively easy to grow, each spring making a pleasing display of their dainty flowers. A couple of species, such as the the lovely white-flowered avalanche lily, E. montanum, refuse captivity, happy only in their wild mountain homes. Selection and cross-breeding have given us beautiful cultivars for our gardens.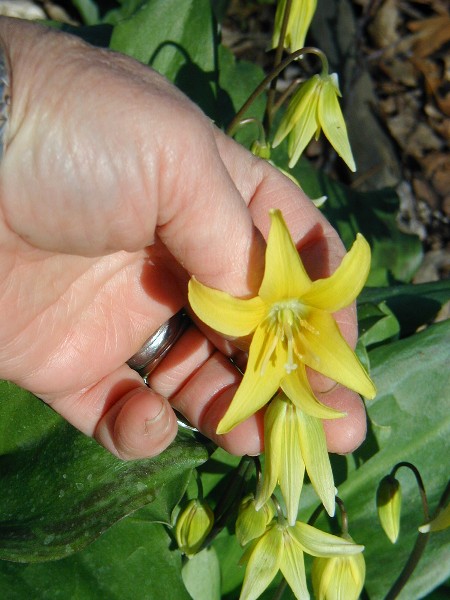 'Citronella' is a lemon yellow selection of E. revolutum.
You can tell it apart from 'Pagoda', as the latter has brown markings in each flower's center.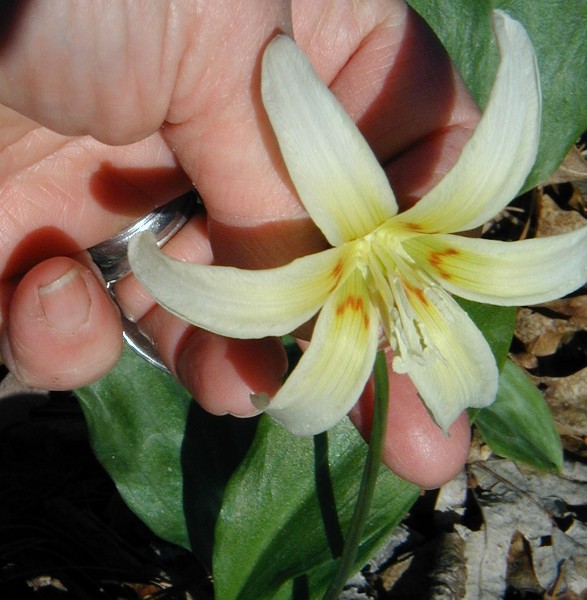 E. revolutum 'White Beauty' has large flowers with a yellow flush at the base of each petal, further accented by a chevron of brown.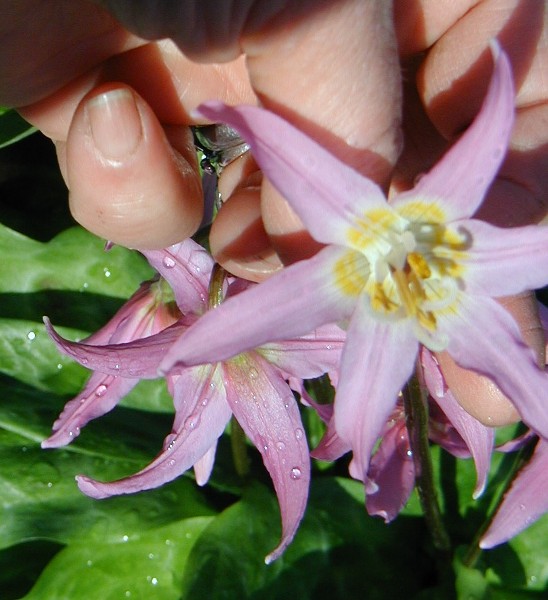 'Pink Beauty' is a beautiful form of E. revolutum with fine, rose-colored flowers.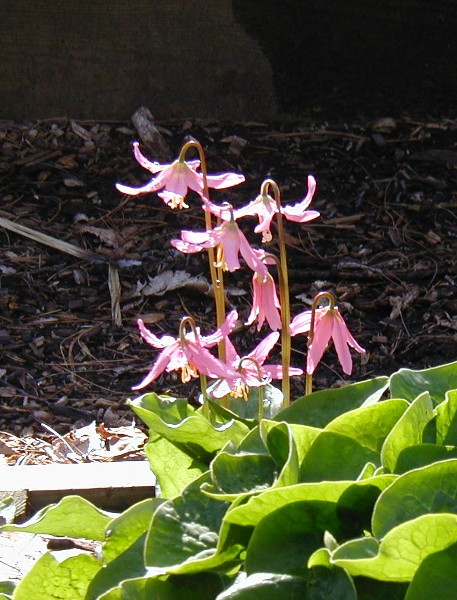 Dancing above the foliage of wild ginger, Asarum canadense, 'Pink Beauty' shows off in the morning sunlight.
Back to Top
---
Friday to Sunday, 28 to 30 April 2006

The Hunt House Inn

While I was in Massachusetts my domicile on Friday and Saturday nights was at The Hunt House Inn. My comfortable bedroom might be small, but that was more than compensated by the attractive sun porch where a more than adequate breakfast was served up each morning by mine hosts, Molly and Jim. Coffee waiting hot in the carafe when I came downstairs at 7:00 a.m. Orange juice. Fresh fruit. Fresh muffins, hot from the oven. A spinach quiche one day. Or would I like oatmeal? Or I could have both quiche and oatmeal if I so wanted. The following morning Jim suggested it would be his pleasure to whip me up a mushroom omlet, and promptly did so as I passed the time (minutes, scant minutes) by nibbling on fresh pineapple and strawberries. A rack of current magazines, something my doctor and dentist could "take under advisement!" Conversation if I wanted to, quiet if I didn't.

And then there was the butler.

He'd come from a shelter. His previous owner, who had macular deneration, had named him Ret, short for "retina." Molly didn't want to confuse him with a name change when his life was already dishevelled. So this darling little black Pekinese became Rhet the Butler.
And he's good at his job. When the doorbell rings he barks to announce the new arrivals. But just enough to alert the rest of the staff. Then he settles down again, appropriate behavior for head of the household.

An all-around pleasant place to stay.

Back to Top
---
Saturday, 29 April 2006

Garden in the Woods

Friday's flight in a little airplane (everybody got a window seat, all 18 of us had an aisle seat) took me to Boston's Logan Airport. That's where Pam picked me up. I was one of four speakers for the spring symposium on Innovative Design for Garden Beds, Borders, and Containers, jointly sponsored by the Arnold Arboretum of Harvard University, Wellesley College Friends of Horticulture, the Massachusetts Horticultural Society, the New England Wildflower Society, and Fine Gardening magazine.

It was to be a weekend of superb weather: pristine blue skies and sunshine, mild temperatures that turned chilly when the breezes were blowing, and superlative flowers in lavish bloom. Though gardeners might fret for rain (and we did, and I do) it must be obvious that strolling down the the paths of Garden in the Woods, the botanical garden of the New England Wildflower Society, would not be as pleasant on a wet and dreary day.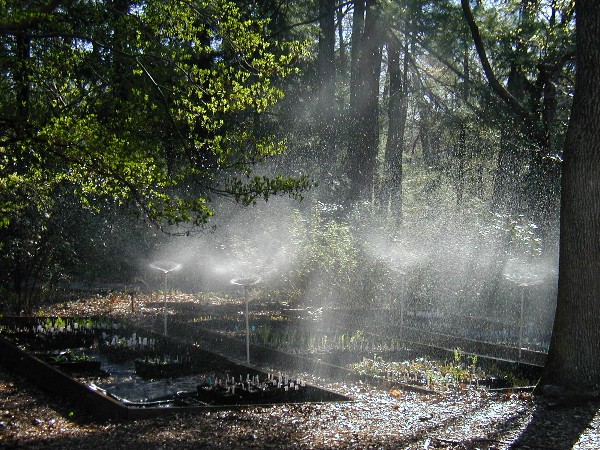 Sprinklers lay down a gentle rain in the propagation area of the nursery.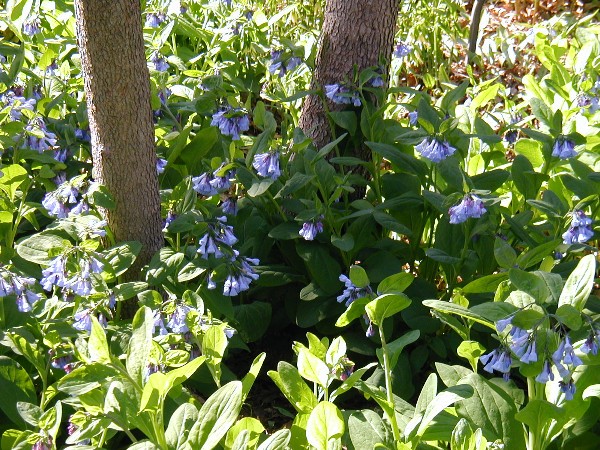 Luxuriant plantings, such as these charming Virginia bluebells, Mertensia virginica, embellish the fore-court near the Visitor Center.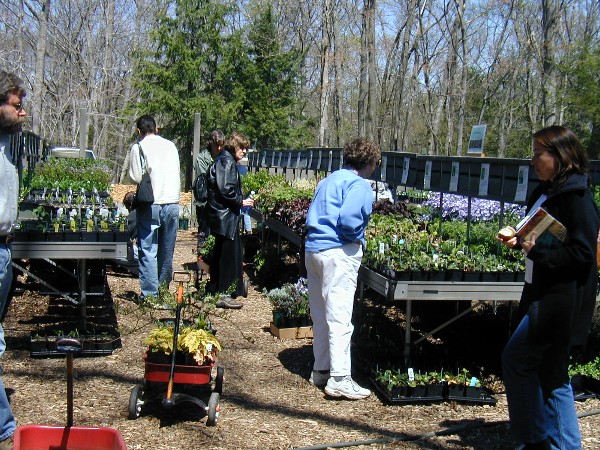 Attentive shoppers peruse the plants offered for sale. Clearly a sophisticated group -
notice that the woman on the right is carrying a copy of Consider the Leaf, my most recent book!

And then, you can slip away, wander down the path into the woodland garden, collecting your thoughts and dreaming pleasant dreams of gardens-to-be while ensconced on a fabulous bench, surrounded and sheltered by stately trees and a screen of rhododendrons.
Back to Top
---
Wednesday, 26 April 2006

Tulips and Topiary

Another meeting of my class on Color and Combination at the New York Botanical Garden. And another day of beautiful weather and splendid flowers. It is astonishing how things have altered in just one week: the weeping cherries with single flowers that were so lovely last week have dropped all their petals. Sic transit gloria mundi. But perhaps that is too grand, a statement for popes and emperors. A better image is conveyed by Issa Kobayashi's haiku,

Under the cherry blossoms
None
Are utter strangers.

All haiku has a kigo, a word of seasonal association. Some are more powerful than others. Cherry blossoms are a seasonal signifier of Spring, and of the transience of all things. But to each thing there is a season. Now that the single cherries have vanished, the double-flowered cherries are in bloom. Update: On May 1st the double-flowered cherries were carpeting the ground with pink snow.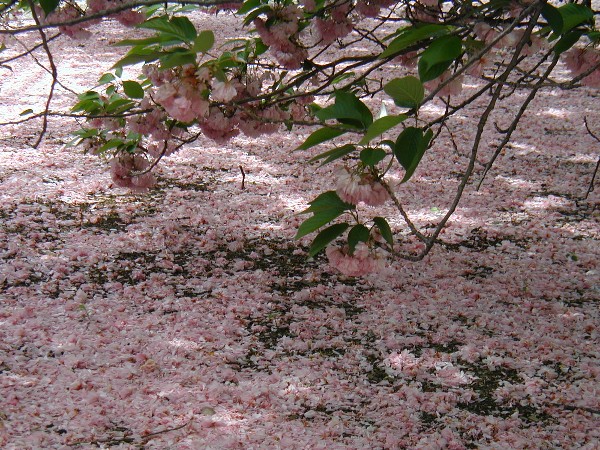 As well, the Tulip Walk is a tapestry of color.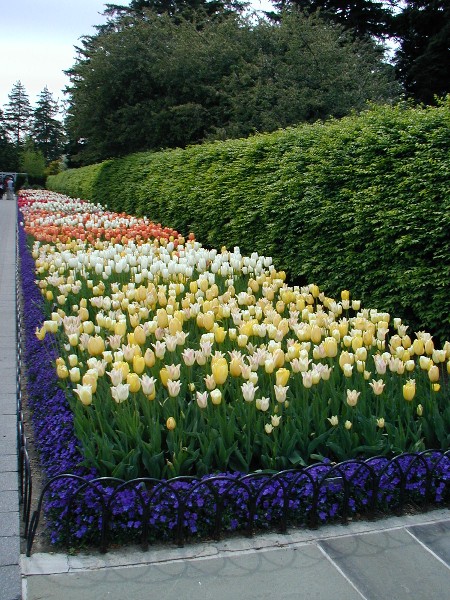 And the tulips which were in bud last week are in bloom this one.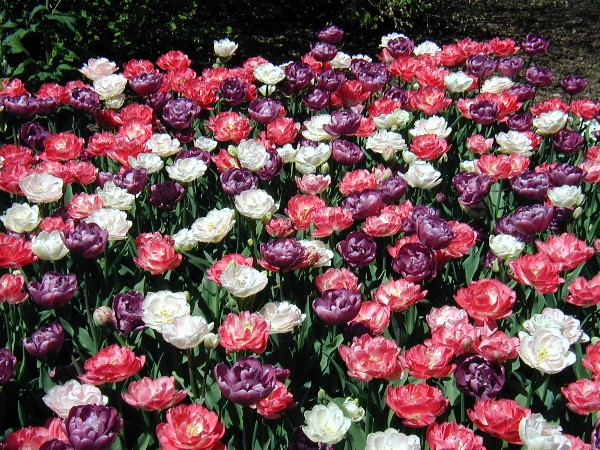 Double late tulips: pretty pink 'Angelique' faded to white, rose colored 'Maywonder', and dark 'Lilac Perfection'
mingle in an exuberant display.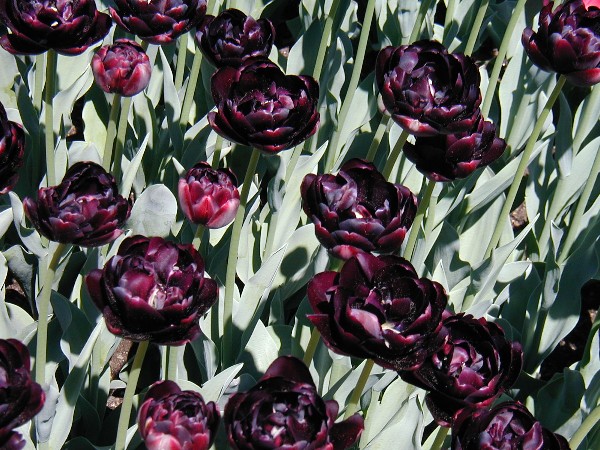 Faintly dusted with grains of pollen, the dark satin petals of 'Black Hero' suck up the sunlight.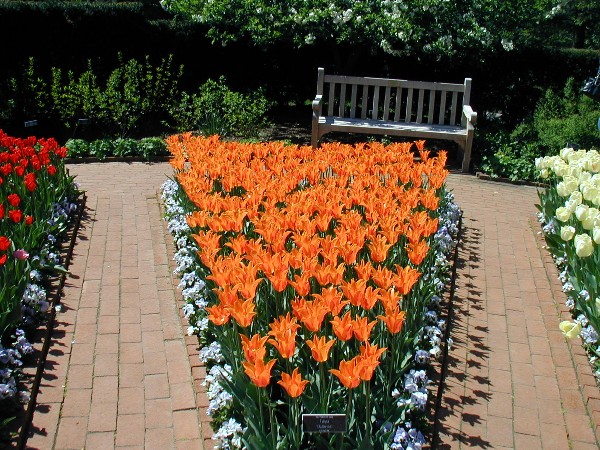 This April the goose-foot design of the Mae L. Wien Cutting Garden has beds brim-full of tulips.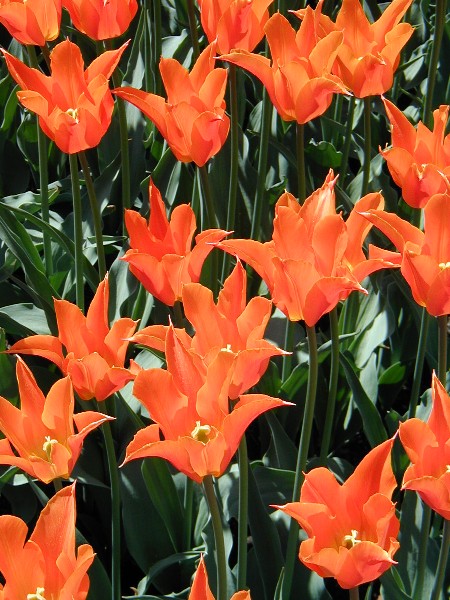 'Ballerina' is a lily flowered tulip melding blood red, capsicum red, marigold orange, and buttercup yellow with glowing results.

Flowers are fabulous, especially when grown to perfection as we've seen today, bold displays of massed bulbs, blossom-bedecked trees, containers filled with foxgloves and pansies, nemesia and stock. After a while though, the eye fatigues and vision blurs. Then, the pristine display of tender green new leaves artfully displayed against a concrete wall of the library building offer the same "less is more" concentrated impact of haiku's syllables, meager in number but rich with meaning.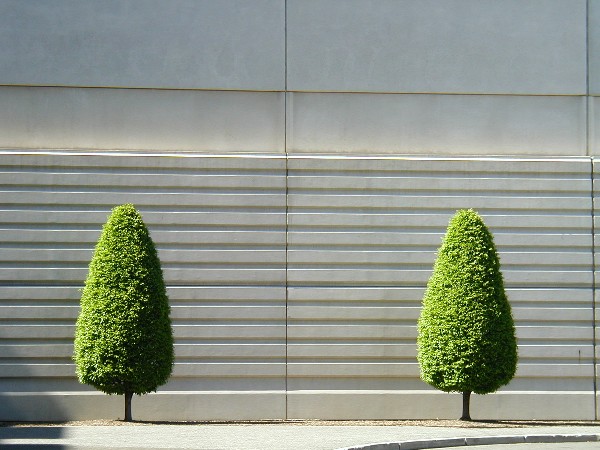 Update - Plants grow. When the shapely form of a topiary becomes blurred, it's necessary to restore their form. And that's just what I saw happening on Thursday, 11 May 2006. Up on an orchard ladder, careful hand clipping removes the twiggy new growth and takes the topiary back to the original shape. I asked how often this is necessary. One careful reshaping in the Spring, and again in summer, perhaps a third time to tidy the trees for fall and winter.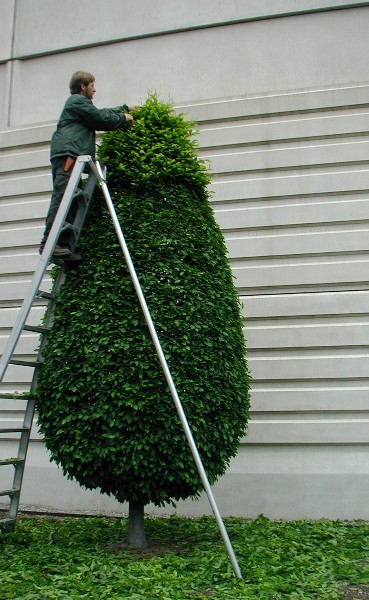 Amazing (like any good haircut) how shapely it looked before, and how much ends up on the floor.

Back to Top
---
Sunday, 23 April 2006

Falling Water

It's been dry. April showers have been in abeyance. Then on Friday night it began to rain. I heard it on the skylights. It rained off and on on Saturday. It rained some more that night. When I checked the rain gauge on Sunday morning it held 2.30 inches, a goodly amount that had fallen in a pleasant, helpful, gentle manner. Thirsty ground had mostly soaked it up. But there was more than could so quickly get down to the groundwater, so some spilled off the land in a torrent.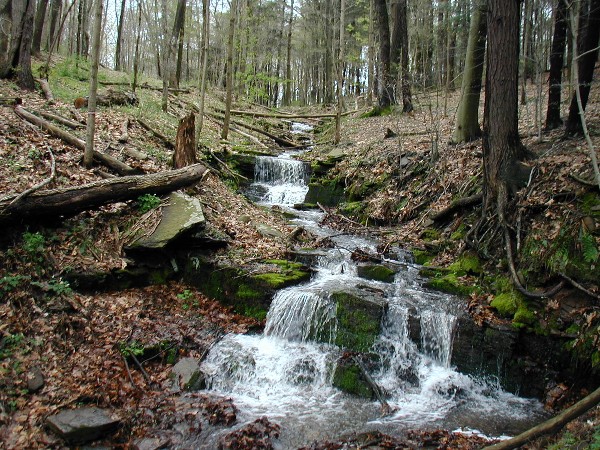 Previously scoured down to bedrock, water stair-steps down an intermittent drainage channel on Creek Road,
foaming and frothing as it gallops downhill.

Back to Top
---
Sunday, 23 April 2006

Ruins

The patient work of skillful hands: finding, sorting, lifting rocks and patiently placing them one upon another. Not a simple boundary wall made of rocks collected as it was tilled, one that delineates a field. These are the ruins of buildings, meant to endure. More than a simple cottage, or a storage shed. These were edifices, a couple of stories high, carefully erected in expectation of their longevity.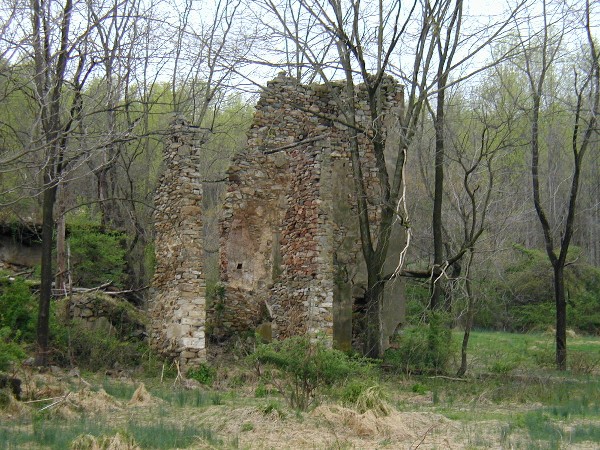 These walls are standing in a tangle of young trees on Funks Mill Road in Springtown, Pennsylvania.

Back to Top
---
Saturday, 22 April 2006

A Dainty Daffodil

The weather has changed, again. Thursday was summer time, with temperatures up to 78° Fahrenheit. Friday was overcast and cooler. Rain last night, with gray skies and an occasional spitting rain today, with the afternoon temperature only 47° Fahrenheit. I went out and down the driveway to get the mail, and picked a few daffodils on my way back up. (An advantage of planting in great sweeps as I do - I can pick a bouquet without spoiling the garden scene.)
Narcissus 'Foundling' is a sweet little charmer.

A chance seedling of unknown parentage, based on the appearance of its flowers with their swept-back petals 'Foundling' is placed in Division VI, cyclamineus cultivars. As Michael Jefferson-Brown describes it in Narcissus (published in the United States by Timber Press in 1991) "Broad white petals curve back from a short wide cup of deep pink." The color seems to hold more reliably than many of the pink trumpet daffodils, whose color fades with heat and age.

Back to Top
---
Wednesday, 19 April 2006

A Conservatory Show at the New York Botanical Garden

.

Today was the first meeting of my class on Color and Combination at the New York Botanical Garden An advantage of teaching here is the opportunity to take students out on the grounds and view actual plants and gardens, in addition to the slides which are also part of my presentation. There's an immediacy to the reality of being outdoors. Which is not to say that living plants placed together in combination as a garden cannot have an artificiality component. Consider the Philadelphia Flower Show, where plants from all seasons mingle their blooms. Such is the case with the current exhibition in the conservatory, where hyacinths, daffodils, and tulips mingle with bearded iris, Salvia superba, stock, delphiniums, and more.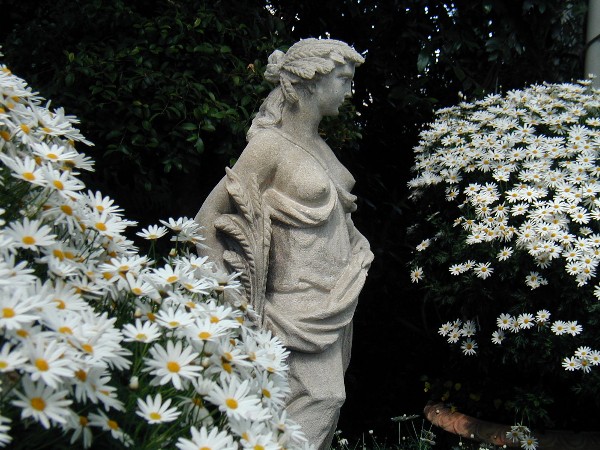 Frozen in place, a statue adds serenity to a marvellous pair of standard marguerite,
an Argyranthemum cultivar trained to a single stem crowned with a substantial dome of white daisies.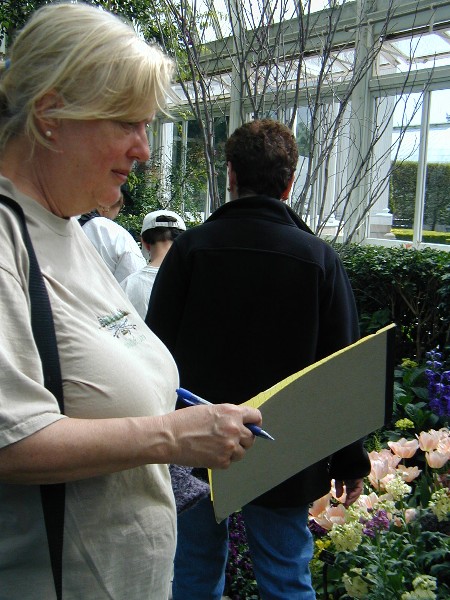 Temporarily immobilized, one of my students is halted by the beautiful display, admiring color and combination
recording a memory before putting pen to paper as an additional record of what she's seen.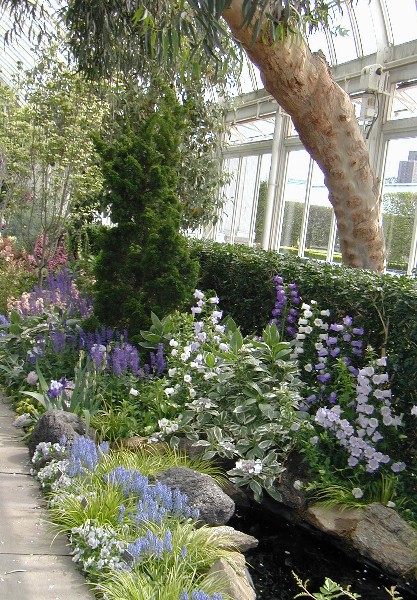 The long view down the glasshouse offers a view of blue, violet, lavender and related hues on one side,
a different color palette on the other.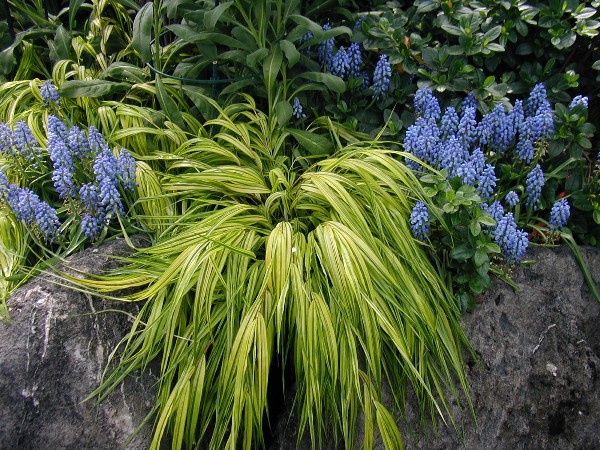 Lovely overall, the details are also captivating, such as this vignette of Japanese forest grass, Hakonechloa macra 'Aureola'
charmingly paired up with soft blue grape hyacinths, Muscari 'Valerie Finnis'.
Of course in my garden the grape hyacinths have long finished their display by the time the grass is this far developed.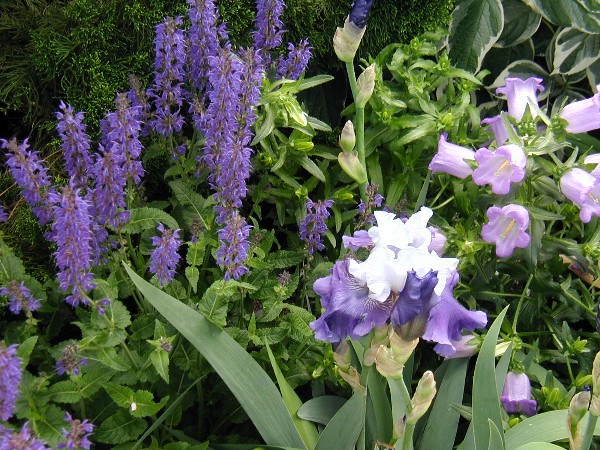 Deep purple spikes of Salvia superba, two-tone flowers of a bearded iris with white standards and purple falls,
accented with the substantial cups of a Campanula cultivar in a deliciously pale tint of lilac.

Back to Top
---
Monday, 17 April 2006

Tulips and Tutu

Here in New Jersey tulips are considered, for the most part, as annuals. The smaller early-blooming tulips, the species and cultivars (short-hand for "cultivated variety") of waterlily tulip, Tulipa kaumanniana and Tulipa greigii with its bar-coded leaves streaked and dotted in chocolate brown are reliable. Many, if not most of the taller, later flowering Darwin and Triumph hybrids, elegant lily flowered and flamboyant opera diva parrot tulips are come-and-go. Not only are they devoured by deer, their growing cycle is upset by summer rain. Flowering well the first spring, in subsequent years the bulbs often throw up a single large, "rabbit ear" leaf rather than a few leaves along a stem crowned by a flower. But then there are exceptions.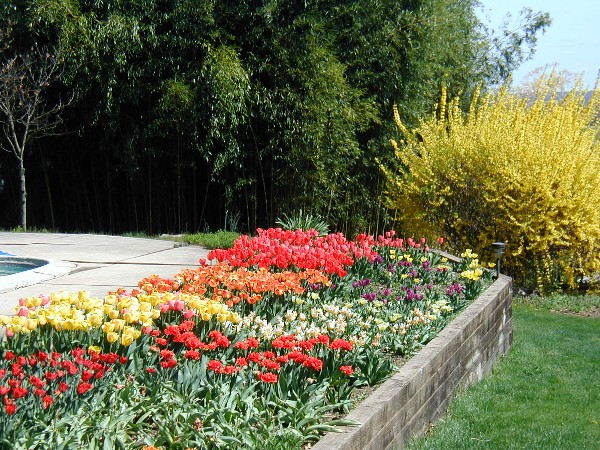 This is the fourth year for a splendid display from this bed of tulips. Jerry planted them for a colorful display when his garden was on tour one spring. He asked me for tulips in warm and sunny colors, and at the earlier end of the flowering range. We selected some kaufmanniana and griegii cultivars, peony-flowered double early, and a few Darwin hybrids. They went into a well-prepared raised bed around the swimming pool, primary intended for summer annuals. And each year the display gets better and better. The first tulips opened early in April (see The Longevity of Bulbs, 4 April 2006.)
The glowing lipstick colors of 'Elizabeth Arden', a Darwin hybrid tulip, shimmer in the spring sunshine.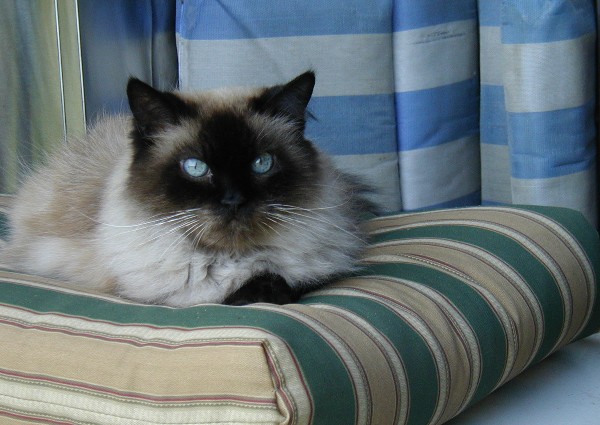 But there's more to admire at the Barads than flowers. Tutu, their Himalayan cat, regally accepts my admiration.
But then, that's what cats expect as their due.

Back to Top
---
Thursday, 13 April 2006

Lawn, Part II

The zoysia has arrived. I ordered 1,000 plugs, which comes with a bonus of 900 additional plugs and a free power plugger for a 3/8-inch drill. I opened the box and stared at the 13 pieces of zoysia turf, each piece 10 inches by 15 inches. The inch-square plugs are partially cut through, the literature promises, so all you need to do is finish snipping them apart, drill holes with the 3 inch by 7 inch power plugger drill bit, water the hole, plant the plug, step on it, and move on to the next one. Water daily for 3 weeks, and have fun watching the zoysia grow. It didn't work quite like that.

Pail came home from work and we both examined the zoysia. I couldn't see where anything was "partially cut" but felt willing to give it a try, especially with the handy-dandy spacer bar Paul had thought up, designed, and manufactured. The beta test model had 5 loops of somewhat stiff plastic tape on either side of the 5-foot long spacer bar, offset so they didn't line up. The concept was to drill through all ten holes, water, plug zoysia, tamp, and move on. Fiendishly, the power plugger liked to catch the tape and snarl itself. Paul solved that issue by cutting away most of the tape, leaving just the two ends as indicators where the holes needed to be placed. Secondly, with the nice layer of topsoil instead of existing turf to power through, the power plugger wasn't needed. Thirdly, Paul could easily go his merry way drilling holes faster, way faster, than I could randomly snip a sod of zoysia into little pieces, water, plant, tamp, and cut the next plug. We got through one sod of zoysia before dinner. It didn't go quite as far as we expected. Time to eat supper and think this over.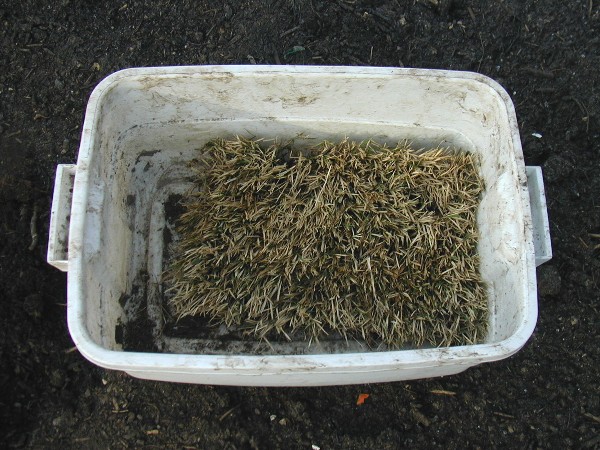 A sod of brownish zoysia. Close inspection does reveal little green blades of grass emerging

The next morning Paul left for work and I started planting zoysia. I assembled grass and equipment: plastic pan with zoysia, spacer bar, kneeler pad, small hand pick, and watering can.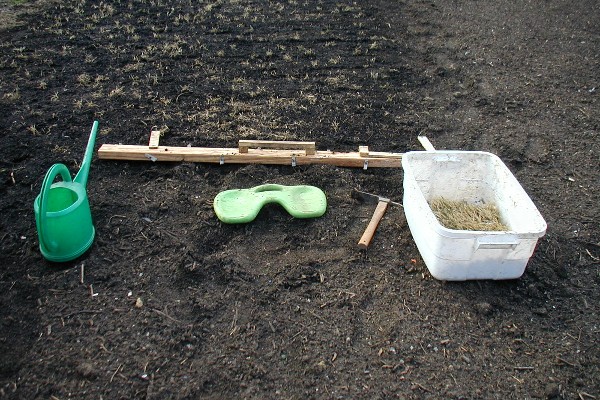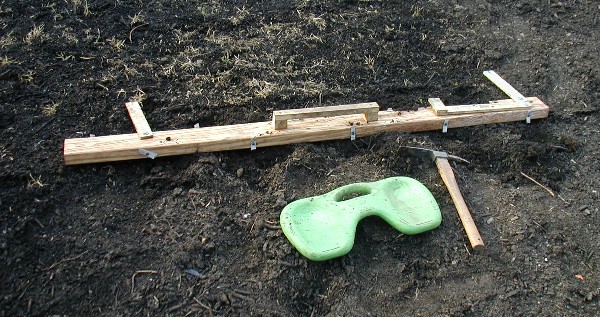 Closer view of modified spacer bar, kneeler pad, and hand pick

Rather than cutting the zoysia apart, I teased out rhizomes. Some were just a tuft of grass with a few roots, however most were lengths of rhizome with multiple growing points. It goes something like this - Lay the spacer bar down. Make holes. Remove any rocks. Fill holes with water. Note: watering can has sufficient water for 23 holes. Set sprig of zoysia. Cover. Tamp. Repeat.

It takes approximately an hour and a half to work my way through one sod of zoysia. Stagger upright. Remove tools to garage. Turn on hose and spray sprigs. (Lawn is too dignified a term right now.) I'm working my way through the 13 sods / 1,900 plugs of zoysia at the rate of two per day. At some point I need to order at least 1,900 more plugs.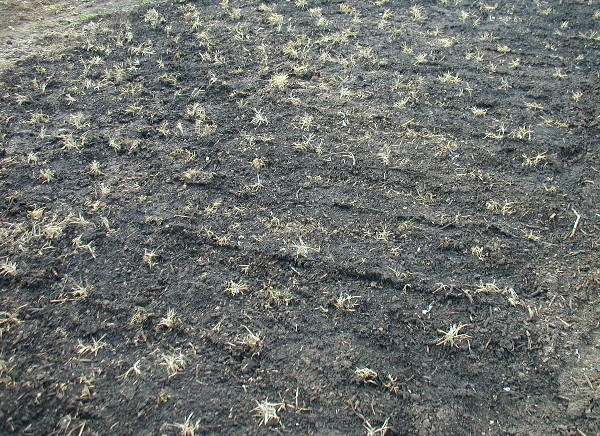 Right now it doesn't look like much. But I'm hopeful, both that it will fill in and make the dense, tough sod zoysia is reputed to be, and that my back and both knees will hold up.

Back to Top
---
Sunday, 9 April 2006

Stink, Stank, Stunk

Saturday's weather was overcast and rain changing to sleety snow. On the way home from my well-received lecture to the Hudson Valley Chapter of the North American Rock Garden Society I even phoned home, asking Paul to get three or four plants back into shelter in the garage. Interesting, attempting to describe them to a man who says there's only two kinds of plants in the world: either they're grass, or they're not grass. How do you distinguish between them? Simple. Grass cannot be cut with a chainsaw. The weather was a matter of concern, since Steve and Melody were coming to see my garden on Sunday. I've visited their garden several times (most recently in March 2006, as described in the Day Before Spring.) A reciprocal visit to BelleWood Gardens seemed only appropriate but gardens always look better in pleasant weather. Fortunately Sunday dawned sunny and fine.

They arrived midmorning. We enjoyed cups of tea, some cookies and cake and conversation, and then out for a stroll around the garden. Daffodils are in bloom, along with a host of other bulbs and perennials such as Pulmonaria saccharata, various hellebores, and the star magnolias are in flower too.

Back indoors where I cooked a tasty lunch of black beans and rice topped with sauteed red onion, red pepper, zucchini and yellow squash jazzed up with some ranchero-style tomato sauce I'd prepared for the freezer last fall.

And then off to the Barads. Unfortunately, Bea and Jerry were away, in Connecticut for a cactus and succulent society meeting. But I'd been assured we were welcome to visit the garden and greenhouse.

And eventually, after looking at the rock garden with sheets of color from creeping phlox in lavish bloom, tulips open wide in the raised bed, the woodland filled with daffodils, etc. etc. etc. we strolled into the greenhouse. Where there was an unfamiliar pungent aroma.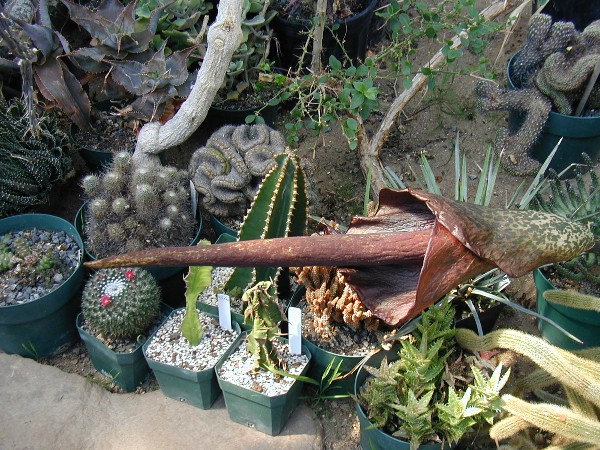 Amorphophallus rivieri, aka Devil's Tongue, toppled over and in bloom among the cacti

Amorphophallus are among the handful of bulbs that flower regardless of whether they are in or out of the ground. It's time, it's their thing, and they just do it. The difficulty is that amorphophallus are pollinated by carrion beetles. Just look at the dull red, rotting meat color of the spathe. Moreover, there's the aroma the flowers waft around to increase their appeal. For carrion beetles, maybe. For humans - definitely not! Nor are these dainty little plants with modest stench. Malodorous, mucho malodorous.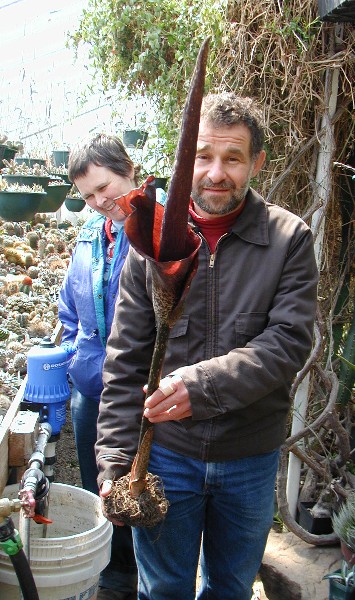 Steve obligingly holds a flowering amorphophallus that I may photograph it, while Melody grins with amusement in the background

Nor was this the largest one in bloom. There were others here and there, including one so large that Steve wondered if it was Amorphophallus titanum, even larger and, or so I understand, even stinkier than A. rivieri.

Why grow not merely one but a dozen or more blooming-size plants with such a foul odor? When spring is advanced to the point where we're frost-free, they're planted out in the woodland garden where their snake-mottled, 3-foot tall petioles and elegantly segmented leaves up to 4 feet across lend a tropical jungle luxuriance to the summer garden. Their tubers produce lots of offsets. Perhaps this summer I'll have one to add to my garden too. After all, there's always the option of beheading the flowering stalk before it opens.

Back to Top
---
Friday, 7 April 2006

Lawn, Part I

Lawns look pretty, and a well-maintained greensward certainly does set off the landscaped portions of a garden. Tending a lawn, however, does not interest me. This may reflect back to my childhood summers at Aunt Gert's summer cottage in Brookfield, Connecticut. There was a front "lawn" - it was green, it got mowed with a reel type push mower, and that was that. My parents' house in Brooklyn did have more effort put into it. However two huge maple trees made sure that the eventual decision to plant running myrtle, Vinca minor, was a sensible choice.

Not that lawns cannot be magnificent. When we lived in Norwalk, Connecticut there was just such a Scotts ideal lawn. It was Mrs. Gorman's pride and joy, a pocket handkerchief size front lawn bordered by a less-than-knee-high well clipped privet hedge. Her lawn was thick, the grass rich dark green, immaculately maintained. When she was in a good mood and I was properly respectful of her efforts I'd be allowed to walk barefoot on the turf.

The lawn here at BelleWood Gardens has had difficulties. To begin with, it was originally a sodded lawn. Quick results, but I remain convinced that seed develops into better turf. Then, there's the firewood with which we supplement the heating system. To explain: we use about 3 cords of wood. The trees (mostly standing dead wood) are cut, split, and then stacked in a roofed-over storage area on the side of the house. That means Paul drives the Quad, towing a cart loaded with firewood, across the front lawn. The wood is unloaded and stacked, then Quad and cart continues behind the house, around past the greenhouse, and out to the driveway. Once the cart is unloaded its not so much of a problem. While Paul does his best to avoid sequential trips over the same piece of front lawn, there's only so many options. And the lawn is suffering.

Remember those ads in all sorts of magazines from American Rifleman to Wood? 7 ways your Zoysia grass lawn saves you time, work, and money! Now, Zoysia (a more-or-less turf-type grass from Japan) does have drawbacks. Most folks really dislike the fact that it turns brown with the first frost and doesn't green up again until mid-May hereabouts in New Jersey. But it is tough. Oh my yes. Once established, it crowds out weeds, loves hot weather, and pretty much ignores drought. So that's how I decided to go.

Now one problem with the front lawn area is that the weight of the cart loaded with firewood was affecting the lawn more than just giving the grass a hard time. It was making depressions here and there, and the edge of the driveway was cracking since it was now higher than the soil. So when my landscape-architect friend was visiting here from Connecticut we discussed it. Paul thought we should spread some topsoil first. Zoysia can be plugged right into an existing lawn, so smothering the amalgam of grass and weeds with topsoil was not a problem. We're talking about a 40 foot by 50 foot area. My friend eyeballed it and said we'd need 8 to 10 yards of topsoil.

Now quality topsoil has lots of uses. It's good for lawn projects such as this, herbaceous borders, containers, all sorts of horticultural options. I decided to order 10 yards, confident that I'd find ways to use any overage.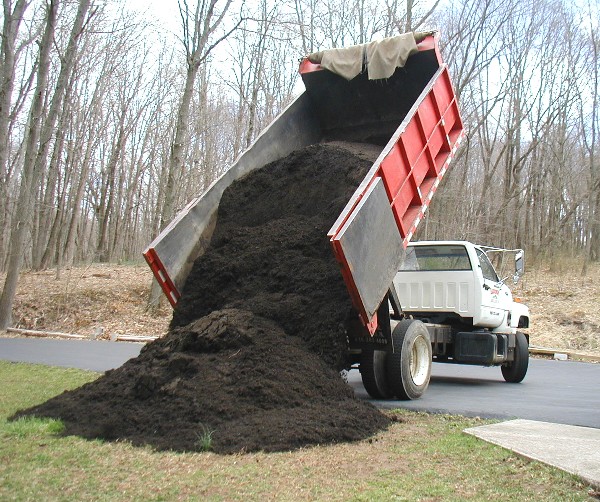 A large truck arrived on Thursday afternoon, and dumped 10 yards of quality dirt on my scruffy lawn

Ten yards is a goodly quantity. While impressive, it doesn't look like a mountain. But I knew that it's more than I could spread. So, in a role reversal, Chris was in charge and I was his assistant. My role was filling wheelbarrows. His was dumping and raking. The weather was overcast and cool, good for strenuous work. But wouldn't you know - it began to drizzle.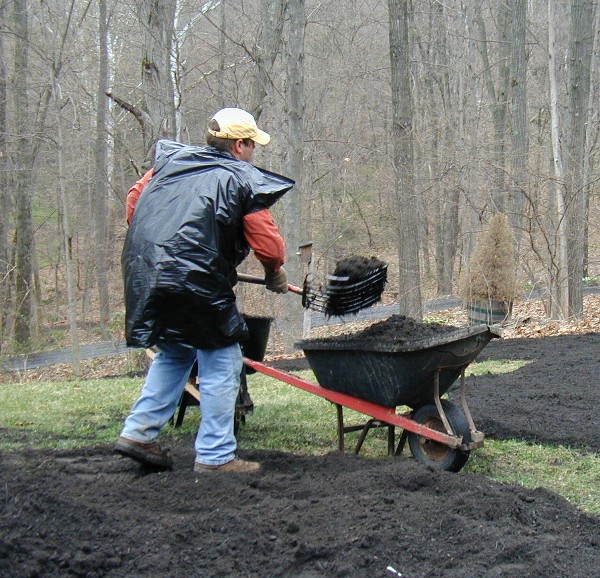 Chris is elegantly attired in custom-made rain gear - a large black plastic trash bag with head and arm holes

It was quickly becoming clear that 10 yards of top soil was insufficient. I called the nursery and ordered 5 more yards, which they graciously agreed to delivery by noon. We continued spreading top soil. I called the nursery back, and told them to put two more yards on the truck, making a total of 17 yards of top soil for the 2,000 square foot lawn area.

At the end of the day there was no top soil left over, and we finished top-dressing the lawn with 8 large (15 or 20 gallon size) black plastic nursery tree pots worth of compost. The lawn area is covered level with the driveway and feathering out to 2 inches or so at the far end. And a steady, gentle rain overnight will help settle the soil.

Next, the zoysia.

Back to Top
---
Wednesday, 5 April 2006

Winter's Last Gasp

The morning sky with scattered clouds, growing more somber until completely gray. Wind picking up, and a spatter of rain with some white flakes intermingling. I made a fire in the wood-burning stove, and a cup of hot tea embellished with lemon and buckwheat honey. Thought we were done with this. Thermometer dropping, dropping, precipitation ever more white. All white, like the inside of a well-shaken snow globe. At least it didn't last very long.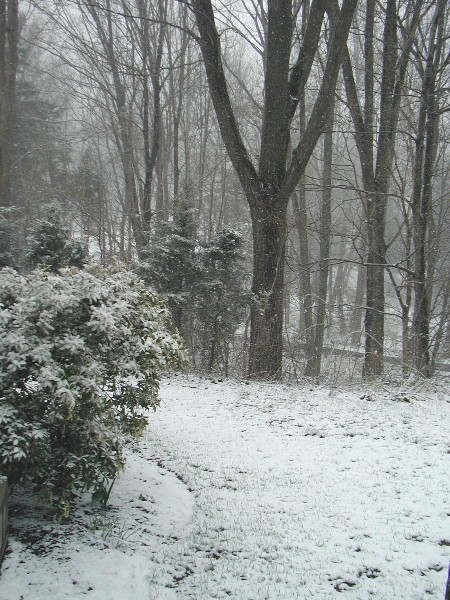 Lawn and shrubs dusted, sky with whirling white flakes of snow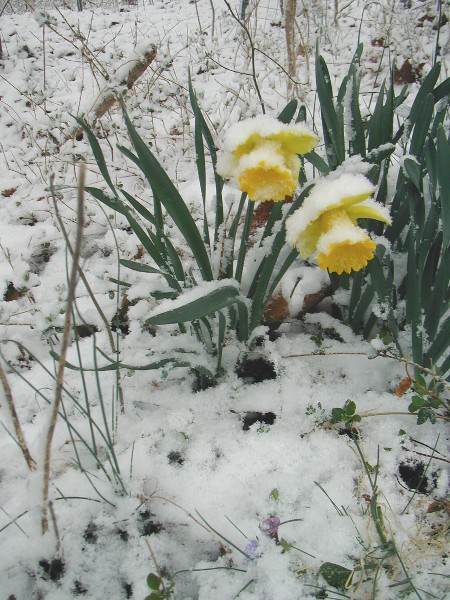 Daffodils nod their heads beneath a fluffy white coating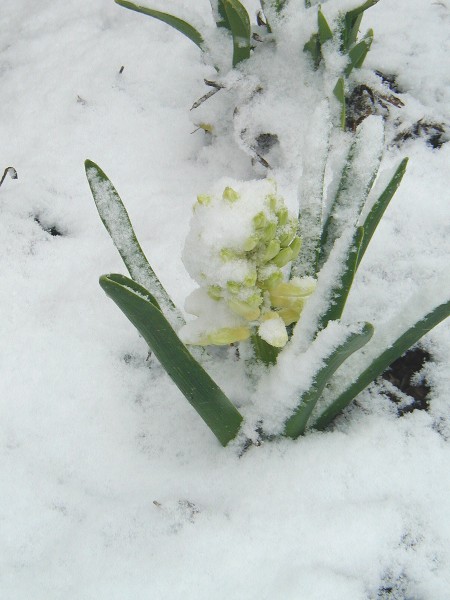 The white hyacinth was useless for a picture.
At least with this one you can distinguish flower buds from the snow.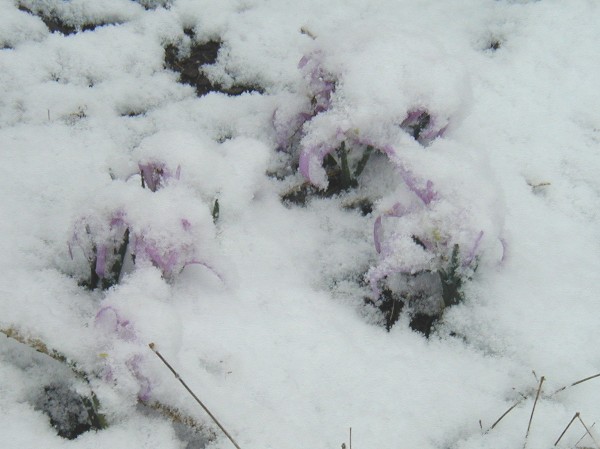 Can you discern the wisps of purple?
Those are the flowers of Bulbocodium vernum, huddled beneath their snowy coating.

Back to Top
---
Tuesday, 4 April 2006

The Longevity of Bulbs

One of the attributes possessed by bulbs that I most appreciate is their intention to be perennial. Consider - the only reason to have underground storage is to use it in years to come. Annuals won't be here next year. Biennials focus more on second-year flowering and seed production. So it is only honest-to-goodness perennials, herbaceous plants that plan to be here for three years or more, that might have bulbs. But not every bulb comes back each year in every garden. Dahlias originate in Mexico and find New Jersey winters more than they can cope with. Tulips don't mind the cold, but often find summer rain confusing. Adapted to the arid steppes of Central Asia, autumn growth of root primordia initiates on moisture stored within the tulip bulb, and develops with fall rain. Summer moisture throws things out of whack. The tulip survives, but rather than a multi-leafed stem topped with a flower such befuddled bulbs produce only a single, outsize, "rabbit-ear" leaf. The smaller, so-named "rock garden" tulips, Tulipa greigii with its chocolate, bar code striped leaves, and the waterlily tulip, Tulipa kaufmanniana, and the cultivars of both species are more reliable about returning to flower year after year.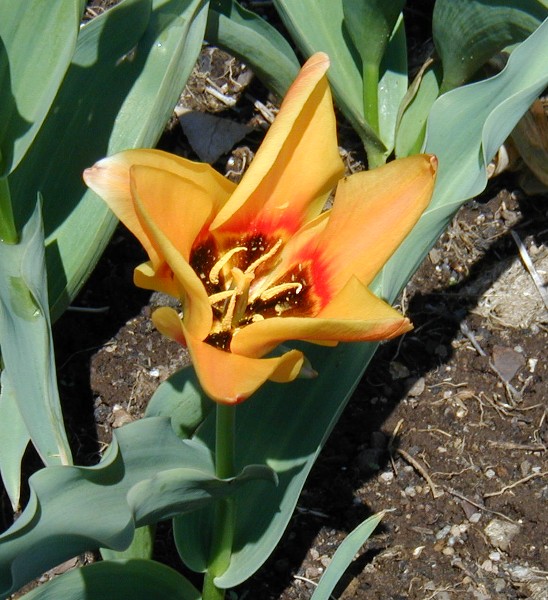 Flowering on a bold scale provides warming color to this early dwarf tulip.

Provide a sunny site with good drainage, and these tulips not only return to flower year after year, their off-sets reach blooming size and increase the display. Planted rather deeply in the well prepared soil of a raised bed five years ago, these tulips find conditions to their liking. Planted one by one, they've increased to bloom by twos and threes, with smaller daughter bulbs clustering around. Jerry uses the space for summer annuals, so the site does receive supplemental watering if the weather is dry. Last fall after the spent annuals were removed he did spread a layer on compost on the bare soil and cultivate it into the top couple of inches of soil to rejuvenate it. Clearly, the tulips were buried more deeply as they were undamaged. Bulbs often adjust their depth in the soil, using contractile roots to pull themselves down.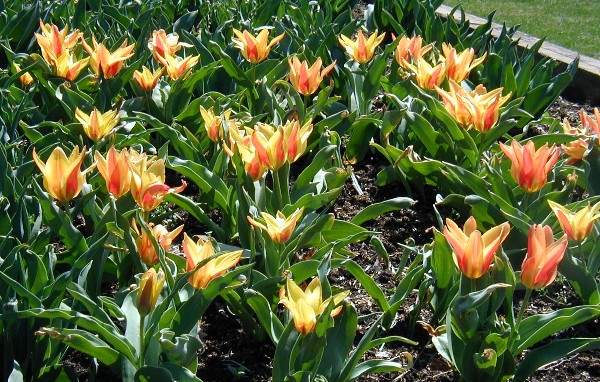 It's daffodils though, that take the record for longevity. Pest resistant, neither flowers nor bulbs are devoured by deer, woodchucks, rabbits, or voles who dine on tulips, crocus, and other bulbs. I've seen daffodils grow next to a burned-out house, and push their way through a skin of asphalt incautiously spread over the soil where they were dormant. Should you have any doubts, just look at this host of daffodils: singles, doubles, golden yellow, ivory white, bicolors, and unknown, yet-to-flower self-sown seedlings.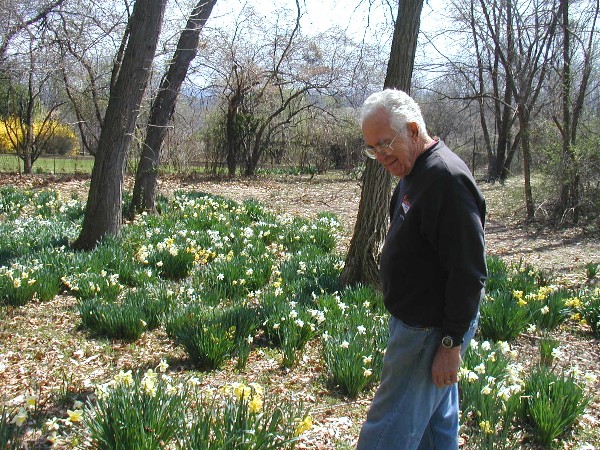 Jerry planted the original assortment bulbs 45 years ago, in 1959. Now that's longevity!

Back to Top
---
Sunday, 2 April 2006

Shading the Greenhouse

Back in the last century, before I got my greenhouse (it was October 1999, but "last century" sounds positively antediluvian) I assumed that my biggest concern would be keeping it warm. Far from it. Keeping a greenhouse from overheating is more of a challenge. Just think of your car when it's parked in a sunny spot. When I ordered the greenhouse, an 8 foot by 18 foot lean-to with glass-to-ground and a twin-wall polycarbonate roof, I had it configured with two 4-foot long by 2-foot wide roof vents. They open automatically, with the expansion of wax filled cylinders. There are two louvered shutters at the base of the more-or-less west-facing side wall, and an exhaust fan high on the opposite wall. Louvers and fan are thermostatically controlled, independently. Two small fans near the roof run 24 / 7 to constantly circulate air in the greenhouse. And this isn't enough. Once spring truly arrives, the sun is higher in the sky and shining more strongly, the "parked car" effect really kicks in.
Daylight savings time begins. While this image is dark, there's already a line of sunlight on the greenhouse roof at 7:00 a.m. EDST

I ordered shade cloth. Shade cloth, I assumed, goes outside the greenhouse. It is put in place every spring, and is removed every fall. My greenhouse is attached to the garage, which is something that is especially convenient in cold and snowy weather when I can get from house to greenhouse without going outdoors. But not so good for putting up shade cloth. The garage roof slopes. A two-person operation, Paul and I would be belly-down on the garage roof, attempting to lower a large unwieldy mass of shade cloth attached to a PVC pipe onto several hooks fasted to the outside garage wall. Each of us had a loop of rope, and things never went smoothly. One end would go onto its hook, the other would not. Both ends would slide into place, the middle would not. Tempers flared. I was concerned for our marriage.

I found a solution. There is a shade cloth which can be installed inside a greenhouse. And the method I chose is one I can manage all by myself.

The second piece of shade cloth I bought (think "tarp") has narrow ribbons of plastic fabric alternating with smaller gaps. One side is silvered: this faces the greenhouse roof to reflect sunlight. The other side is greenish. It can be cut to width with a pair of scissors. I cut it into 2-foot wide pieces to fit the roofing panels, then I sewed a pocket at one end to hold a tension-type curtain rod. This pressure-fits up at the top / high side of the roof. The opposite end, at the long outside wall of the greenhouse, is held reasonably tight and neatly with three clothes pins per piece.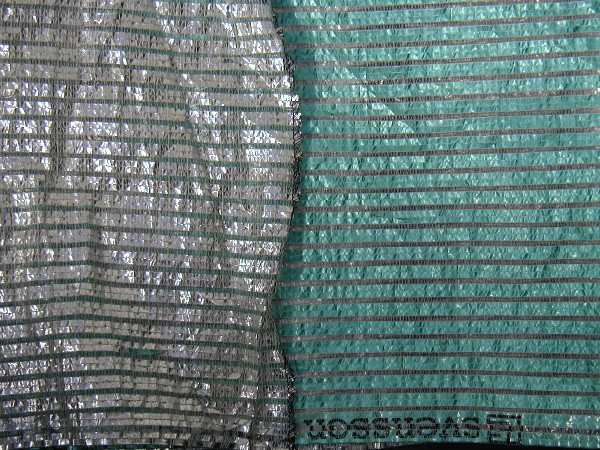 Silver side towards the sun, green side towards the greenhouse

It works quite nicely to reduce solar heating, looks good, and I can easily put it up and take it down by myself. That's what I was doing this morning, a tidy task following the spring-ahead of clocks.
Five pieces of shade cloth in place, four more to go. It's easy to see the difference it makes.

Back to Top
---