Garden Diary - February 2006
---
If you have any comments, observations, or questions about what you read here, remember you can always Contact Me
---
February
---
Saturday, 25 February 2006
Lambing Season
It's that time of year. Snowdrops and winter aconites are in bloom. In the morning I hear birds calling. And, though long-time residents of the area insist that our part of Hunterdon County is no longer rural, lambs are gamboling amidst the flocks of sheep. Twins are common. They are so appealing, tightly curled white coats contrasting to the dowdy, scraggly fleece of the ewes. Small tails whirling like a propeller as they butt their mothers, to let down milk and let them nurse. Not the brightest, more intellectual of creatures, there's something placid about the habits of sheep, and their nattering coversations.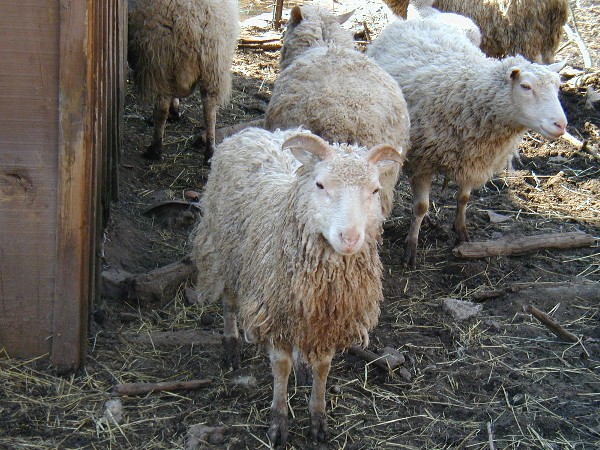 My neighbors have a small flock of sheep, a mixed lot of Finn / Dorset cross-bred ancestry. Apparently the first few came with the property when they bought it, which was before our arrival ten years ago. So there have been previous yearly cycles of the farming year. I doubt that any of the original flock remains, yet sheep there are. Increase in the human family too, with Jesse, and then the twins, Claire and John. I went across the road today, and Claire took me to see the lambs. Accurate, when I asked if she was almost six years old Claire informed me that she's five and three-quarters. Quite the young shepherdess, she told me about one little lamb that was cold and shivering, so they brought it indoors and put it on a towel by the stove until it warmed up. The pair of black and white lambs, sisters, were offspring of the cocoa brown ewe. But Claire's special favorite of this season's lambing is little Cosmo.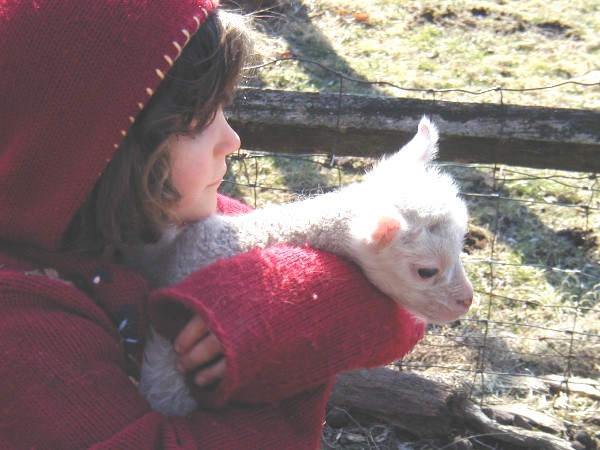 Claire and Cosmo share a quiet moment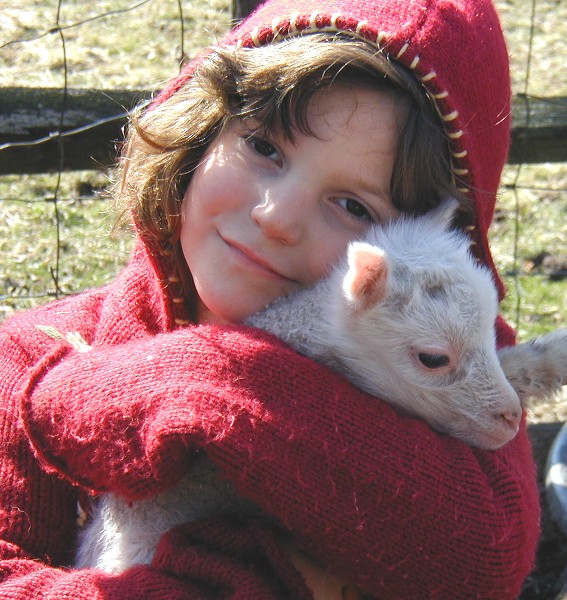 Young ones are always appealing.
---
Thursday, 23 February 2006
The Birds
It was early afternoon when I finished teaching my class on native plants in New Brunswick. Packed up my books and slides, loaded everything into my car and took to the road. Passed under the highway and got ready to merge with traffic on Route 1 South. Changed my mind and pulled over to the side of the road. The adjacent field was filled with grackles, hundreds of birds, probably thousands of them. They swirled into the air, so numerous they literally darkened the sky, too thick to see beyond the flickering wings. Then settled back to gleaning in the field.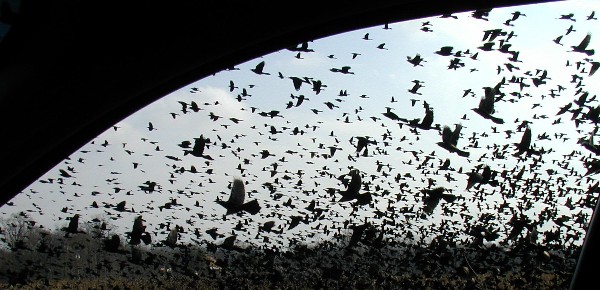 The view out my car window, filled with grackles
Pale yellow eyes staring, they strut boldly across suburban lawns, their black bodies flashing, feathers glistening, iridescent, metallic, in the sunlight. They're called a pest. It's when they're migrating, and in the winter months that grackles are a problem, feeding in farm fields on grain, especially corn. The common grackle, Quiscalus quiscula, is a bird that's happy in flocks, often sizeable. Pre-European settlement they probably lived in open areas with trees scattered through the fields. Land clearing for agricultural purposes allowed their population to increase, and today they are one of the most abundant birds breeding in North America. Colonies frequently have 10 to 30 pairs, and as many as 100 pairs. After the breeding season, grackles form large foraging flocks, often including other blackbirds and cowbirds. As birds from the northern part of the range migrate to their winter destinations in the southeastern United States the flock size increases even more. Grackles, unlike starlings, are at least a native species, doing well in the human landscape.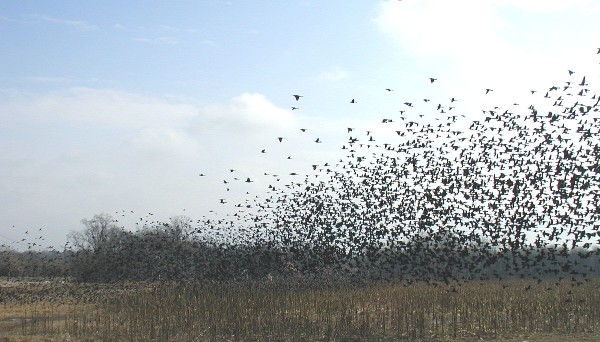 There's an atavistic thrill at seeing such numbers, individuals subsumed into the group
and maneuvering gracefully, wing to wing.
Back to Top
---
Monday, 6 February 2006

Mini-Preview for the Bulb Exhibition

It's rather like B'rer Rabbit begging B'rer Fox, "Please don't throw me in the briar patch!" when that's where he really wanted to be. Several years ago I was asked if, when my turn came up, I'd like to curate an exhibition focusing on bulbs in the William D. Rondina and Giovanni Foroni LoFaro Gallery of The New York Botanical Garden's LuEsther T. Mertz Library. Silly question. Last summer I was asked if I was still interested, and last November I began work in the "briar patch" of the Rare Book Room.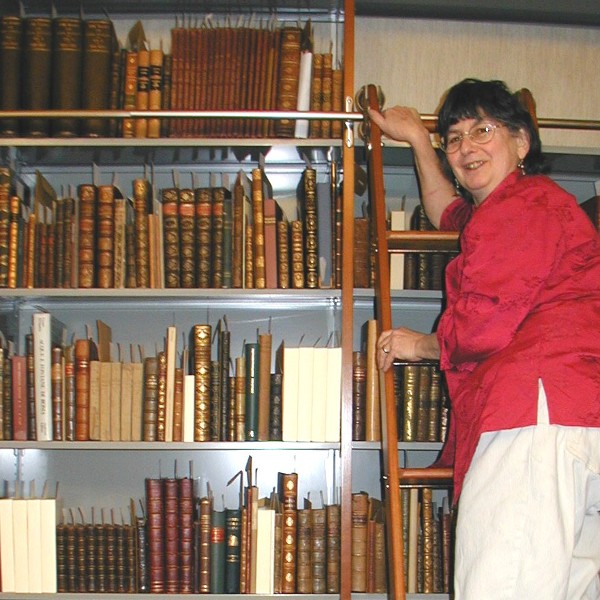 Here I am, up a ladder in the Rare Book Room of The New York Botanical Garden's
LuEsther T. Mertz Library, searching for just the right books for the exhibition
photo by Steven Sinon

The Library's holdings are fabulous. The Rare Book Room is where more than 4,700 pre-Linnean works (published earlier than 1753) and the actual writings of Carl von Linné are housed, together with the Folio Collection, notable for its holdings of 18th- and 19th-century books with paintings and drawings by such notable and talented botanical artists as Pierre Joseph Redouté, Georg Dionysius Ehret, and Walter Hood Fitch.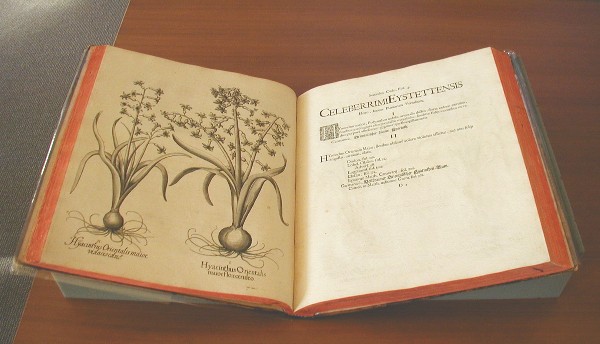 First published in 1613, Basilius Besler's Hortus Eystettenis records the plants and flowers
grown in the garden of the Bishop of Eichstätt. It's two volumes are among the more massive of herbals,
and it's been said that a wheelbarrow was needed to cart them around.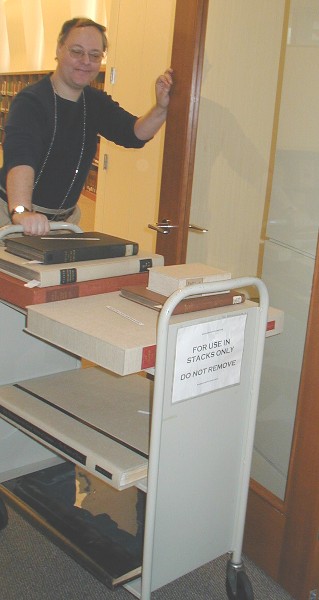 A cart indeed a necessity, Steven wheels several folio volumes from the Rare Book Room to the Libary's Reading Room
where I made a mini-preview of the exhibition to Library and Conservation Department staff.

Selecting themes for the Gallery's ten cases and vitrines was just my starting point. Next was the difficult task of selecting images to illustrate those themes. At one point I asked (knowing what the answer would be) if I could have extra cases installed in the rotunda outside the gallery. As well as those from the Rare Book Room, I chose books from the general research collection of over 103,000 titles published after 1850 and housed in a 9,000-square-foot, environmentally controlled storage facility. I decided to use loose plates from the art and illustration collection, several images from serial titles such as the Botanical Register and Curtis' Botanical Magazine, and even nursery catalogs from Holland and the United States.

Ancient of days, books several centuries old cannot merely be flopped out on a table and cracked open. Wedge-shaped foam supports gently craddle them, a transparent binding can encircle pages and cover to gently hold them open, and - for the mini-preview - "spaghetti", thin fabric tubes filled with weights, might hold a book open to the proper place. Library staff, experienced in exhibition design, what works and what does not, provided me with invaluable help. Conservation staff are vital to the exhibition. Not only must they create the necessary supports to hold the books open to a specific image for the three months they'll be on display, they also assess each item's condition. Does it need conservation, repairs, perhaps even re-binding? Or, as happened to one particular book I'd selected, will I be told, gently but firmly, that its condition is too poor to permit its use.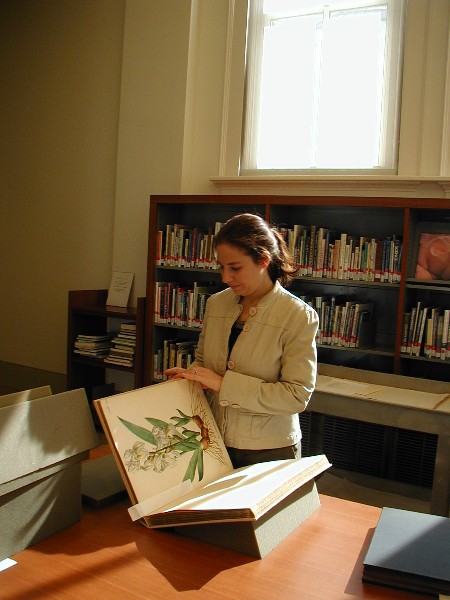 Genevieve, one of the conservator services staff assisting at the mini-preview, arranges a copy of Daniel Wagner's
Pharmaceutisch-medicinische Botanik, published in 1820, to an image of Iris florentina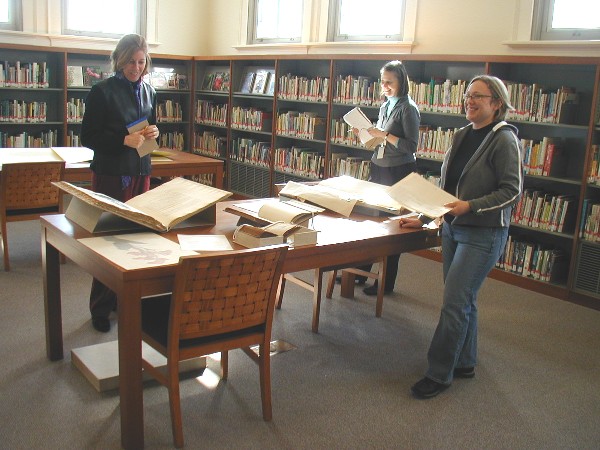 Happy faces all around (from left to right) Susan, Jane, and Kelsey assure me that my themes, images, and case notes
are headed in the right direction. Only a little tweaking, and we'll be ready for the next step - a preview in the Gallery itself.

The exhibition will open on October 7, 2006. It seems like ample time, but I'm learning just how much effort in involved in staging a show of this magnitude.

Back to Top
---
Wednesday, 1 February 2006

An Offer Too Good to Refuse!

I was at Home Depot in Phillipsburg, and naturally had to check out the garden shop. Who knew, maybe there would be more lachenalia. Just inside the automatic sliding door from store to indoor garden shop was a large sign:

Do you have a green thumb? These plants need TLC. Look for the red dot on the pot, and take 75% off.

There was a cluster of plants in medium to large pots. Truthfully, they didn't look that bad. Someone must have done some grooming and pruned away any dead or damaged foliage. The only one that really attracted my attention was a palm. I asked if it was indeed marked down from the sticker price and was assured that it was indeed that deeply discounted. With some difficulty I hoisted the large pot into the basket of my shopping cart and, leaves barely clearing the doorway, headed back into the store to look for what I'd ostensibly come for.

Eventually, with nothing but the palm tree in my cart I headed to the nearest check-out. Which happened to be for contractors but Wednesday afternoons are slow and it was not a problem. Not, that is, until the cashier scanned the bar code and it rang up at almost double the sticker price, and considerably above the discounted price. Talk about sticker shock! With the assistance of a manager all was well and the palm was sold to me for a price that was too good to refuse.

While the weather was not freezing, it was chilly outdoors and I was concerned that the palm might be unhappy waiting in the chilly breezes while I unlocked the car, folded down the backs of the rear seats and wrestled it into my car. Since there wasn't a trash bag large enough to enclose it, we swaddled it in shrink wrap, going around and around and around until I was dizzy.

I'm not really sure what kind of palm it is. At first I though "fish tail", then "bamboo" but after a review of the illustrations in An Encyclopedia of Cultivated Palms, by Robert Lee Riffle and Paul Craft (Timber Press, 2003) I'm not certain just who it might be. Update: Thanks to Myron Kimnach, for 25 years Director of the Huntington Botanical Gardens in California and currently writing a major book on the palms I have a little more information about my bargain plant. " "Fishtail palm" is a name that can be applied to several genera, but the plant is most probably a species of Caryota. There are other genera with similar leaves but also with spines, so I can't be sure about this one without seeing it close-up. There are about five widely cultivated caryotas, all being grown in California and Florida. When young or out of flower they would be difficult to tell apart."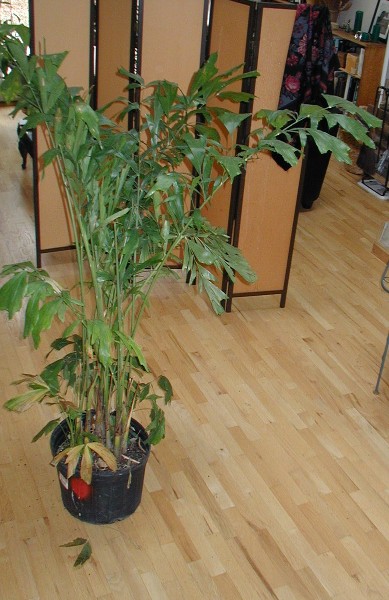 No matter, it is in the great room under the skylights, not serious impeding traffic. I'll buy it a nicer pot than the flexible black plastic nursery can (no doubt for much more than the palm itself cost) and envision how nicely it will embellish the summer garden. Indeed, how could I refuse an offer this good.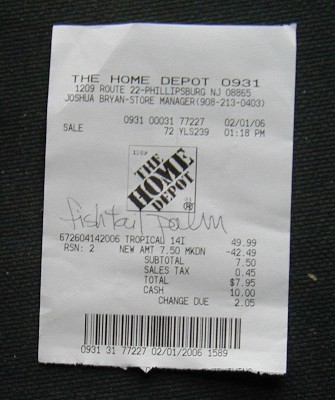 Back to Top
---