Garden Diary - December 2005
---
If you have any comments, observations, or questions about what you read here, remember you can always Contact Me
---
December
---
Saturday, 31 December 2005
A Flower for Year's End
It's a gray day. The temperature hovers around the freezing mark, but it feels colder - no doubt because things are a little damp. A year-end walk through BelleWood Gardens rewards me with evergreen foliage on hellebores and rhodea, arum and Christmas ferns, pulmonaria and groundcovers. And then, as we edge a week past solstice, what do I spy but a snowdrop, ready to declare that winter's grip will soon be relaxed.
Still tightly furled, Galanthus 'Potter's Prelude' awaits only the kiss of a sunny day to open
---
Thursday, 29 December 2005
Cozy Kitty
Cats are very good at making themselves comfortable. They nap, wake up with a yawn and a stretch, then saunter to the food bowl to see what's available. After that bout of exercise, it's time for another nap. Fog (whom you can see in summer mode at the third week of July's Hazy, Crazy, Lazy Days of Summer) finds himself a comfortable nest by eeling up under the comforter - honestly, I do make the bed - and settling in for a long winter nap on the flannel sheets.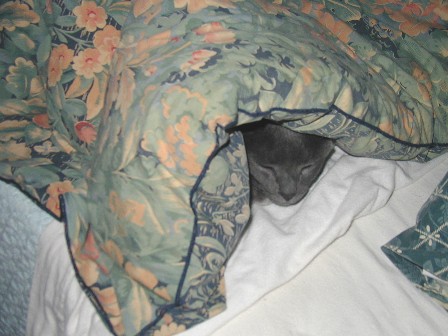 Tucked up all cozy and snug in my bed
---
Wednesday, 21 December 2005
Winter's Solstice
The earth turns in its great circle, cycling round the sun. One of the four lesser Druidical festivals, winter's solstice marks the death of the Holly King, Celtic god of the dying year. Shortest day / longest night, the time of the year when the sun appears to move northward again. Light returns.
The sun rose today at 7:20 a.m., sending a pinkish pearly light into the sky before glowing on the east-facing slope. It took an hour more before the cold, light-filled globe cleared the hill behind my house.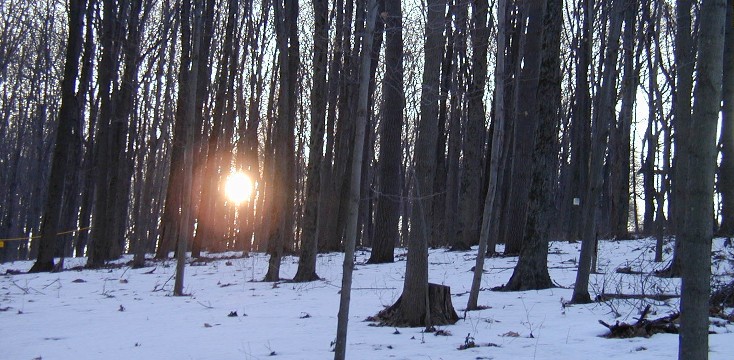 There's little warmth in it. In fact, the temperature dropped to 16.0° Fahrenheit, colder by 2 degrees than when I arose in the dark. Sun set tonight is at 4:36 p.m.
Today is winter's solstice, the day of least sunlight in the Northern Hemisphere. This day the sun always rise and set furthest to the south. In many countries, wnter'solstice brings a change in season, as it is the first day of winter in the North. The solar heating and stored energy in the Earth's surface and atmosphere is near its lowest during winter, making these the coldest months of the year. In the north, daylight hours will increase every day from now until June. Tomorrow will add 2 seconds more to the length of day.
A time for ritual, celebrate the solstice with a private, personal festival of sun return, resolutions for the lengthening days. Choose a leaf, one or more. I used oak, as the Oak King rules the coming half-year. Name each leaf as something no longer wanted in your life. Chose carefully, and make it personal: not, for example, just to be rid of debt, but to free yourself of the greedy need to acquire more and more material objects. If it is health you choose, burn out the need to nibble and nosh, or freedom from sedentary days, choosing more active ones. Burn out unhappy emotions: jealousy or spite. Set that leaf afire to begin the new year without the unwanted need. Resolutions for the lengthening days.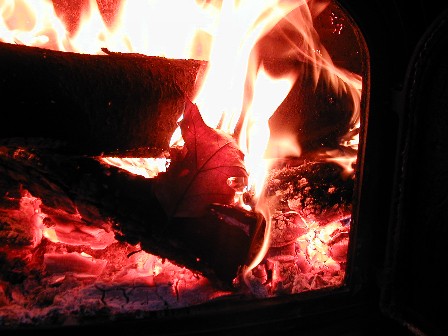 Back to Top
---
Thursday, 8 December 2005

Redouté's Flowers

Renovated and opened to the public in May 2002, one of the marvellous improvements to The New York Botanical Garden's LuEsther T. Mertz Library was the creation of the William D. Rondina and Giovanni Foroni LoFaro Gallery. Regularly scheduled exhibitions are displayed in the gallery's 10 glass cases and vitrines, providing a themed display of magnificent works from the library's own collections and on loan from august institutions both within the United States and abroad. The inaugural exhibition, Plants and Gardens Portrayed: Rare and Illustrated Books from The LuEsther T. Mertz Library was a highlight of some of the Garden's most valued treasures.

An exhibition is not a simple matter. There are months of preparation: a topic and themes are decided upon. Next the material, usually between 60 and 65 books and loose images must be selected. The conservation department dertermines if they are in suitable condition to be on display. Special supports are made to hold and support the books. Text is written for the display cases. And finally, some ten or eleven months later the exhbition opens to the public. No wonder there are generally only two exhibitions a year, and that they remain open for several months.

The current exhibition: Flowers by Redouté, Artist for an Empire is on display from October 22, 2005 through January 22, 2006. It showcases books, prints, correspondance, portraits and original artwork from the Library's collection, the Rachel Lambert Mellon collection of Oak Spring Garden Library, and the Hunt Institute for Botanical Documentation of Carnegie Mellon Library. Encompassing the life and work of Pierre-Joseph Redouté (1759 - 1840) it offers a glipse of one of the most famous botanical illustrators, whose light-filled compositions earned him the sobriquet of "the Raphael of botanical illustration."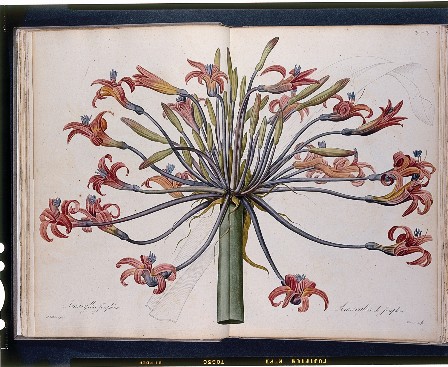 On loan from Oak Spring Garden Library, a colored stipple engraving Amaryllis Josephinae from Les Liliacées

Brought from its native home in South Africa to Holland in 1789, whence it was brought to France, the bulb was then purchased by the Empress Joséphine. It flowered for the first time at Malmaison in 1805. A British botanist, John Bellenden Ker Gawler, named it Amaryllis Josephinae in 1817. It is today known as Brunsvigia josephinae.

The eight folio volumes of Les Lilacées depict the wealth of plants that were grown in Malmaison, the garden of the Empress Josephine.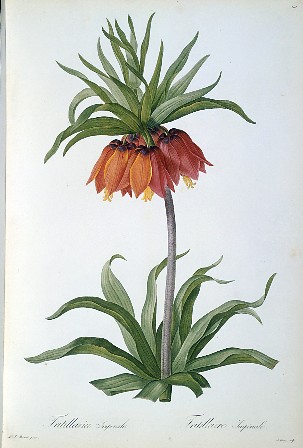 From Les Liliacées, a colored stipple engraving of crown imperial, Fritillaria imperialis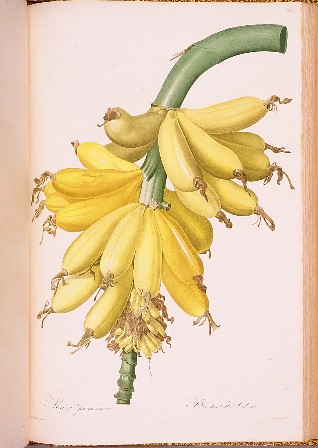 On loan from Oak Spring Garden Library, a colored stipple engraving Les bananas from Les Liliacées

After the death of his patroness Empress Joséphine in 1814, Redouté's income declined while his expenses remained high. He turned to works of primarily decorative interest to balance his mounting debts. The 36 installments of Choix des plus belles fleurs, printed between 1827 and 1833, encompassed 144 prints. Redouté had them printed in color, then retouched them with watercolor.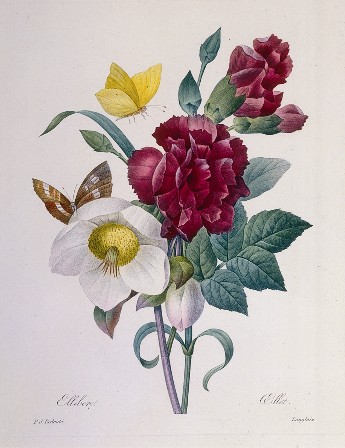 From Choix des plus belles fleurs, Ellebore, a colored stipple engraving of Christmas rose, Helleborus niger
with carnations and two butterflies
From Choix des plus belles fleurs, a colored stipple engraving Camellia japonica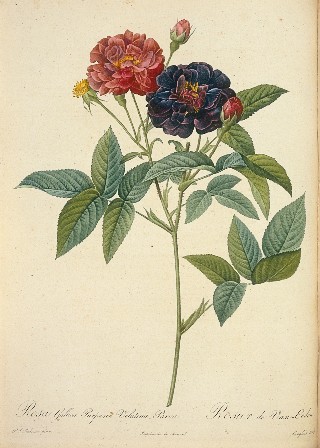 From Les Roses, a colored stipple engraving of Rosa gallica purpureo-violacea magna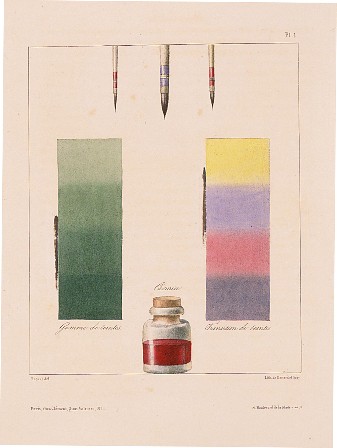 Colored lithograph in L'aquarelle ou, les fleurs peintes apres la methode de M. Redouté by Antoine Pascal.
Published in 1837. On loan from Oak Spring Garden Library

A trademark of Redouté's style is stipple point engraving, which uses dots rather than lines to create tonal effects. In the intaglio process, an image is incised onto a soft metal plate with a burin, a tempered steel rod with a lozenge-shaped point and a rounded handle. The incisions are filled with ink, and the pressure of a printing press applies the ink to a sheet of paper. The soft tones of original watercolors or drawings was approximated with a technique known as à la poupee in which multiple colors were layered onto a single plate by muslin-wrapped fingertips. It was through this combination of stipple point engraving and specialized coloring technique that Redouté's finest prints were created.

A stunning exhibition displaying the most exquisite flowers, with thoughtful comentary on the artist, his art, his life and the times.

Back to Top
---
Saturday, 3 December 2005

Atlock Flower Farm's Holiday Open House

It was a cold December day, with a sharp knife edge to the wind and no warmth to the sunshine. Bea and Jerry having also received an invitation to the Atlock Flower Farm Holiday Open House, we decided to make an outing of the event and travel together. A brief ride south on Rte 287, exit 10 at Weston Canal Road, turn left - and there we were. Not the first to arrive either. The chill weather presented the usual difficulties: step into a greenhouse and my vision instantly became blurry as my glasses fogged up. Winter is quiet, the birds no longer sing, and color is bleached from the land. (See the June 2005, third week's Atlock Flower Farm entry to compare the seasons.)
Bare shrubs and a wire urn reflected the season's denuded character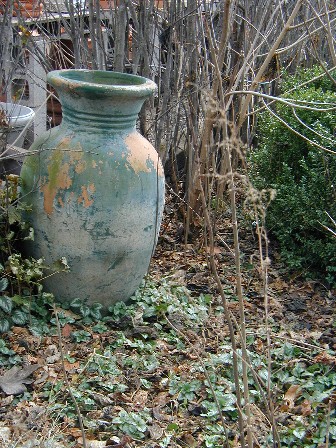 A empty, weathered urn, though more substantial than its skeletonized counterpart
provides a spartan look to the landscape.

One major attraction at the holiday open house are the range of things offered for sale. Plants to decorate your home: begonias and coleus, topiaries and orchids.


Another - a diversity of pots in a range of shapes and sizes from a variety of sources
Seibert and Rice, purveyors of fine Italian terra cotta travel from their Short Hills warehouse with trucks full of elegant containers made by artisans in Impruneta. Planters and urns in the classical Italian style, creative new designs by Abbie Zabar and Robert Dash, in sizes from modest to magnificent.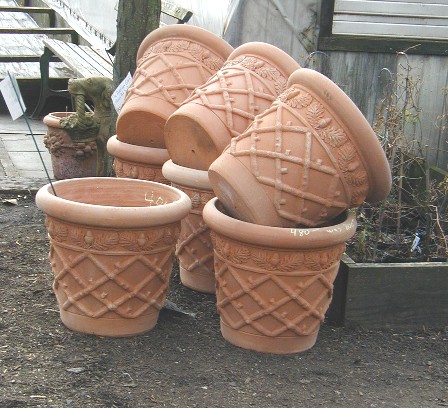 People are not the only ones hurrying around in the cold. There's a group of Guinea fowl scurrying about the garden. As I attempted to close in for a better picture, their pace increased and the clucking became cacophany. And that, methinks, is a good collective noun for a group of Guinea fowl.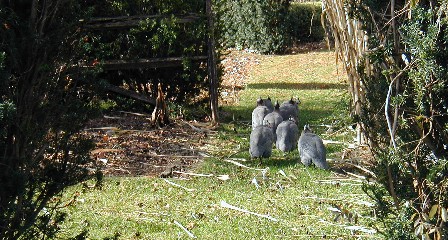 A cacophony of Guinea fowl scuttle down the path

I did look at Collective Nouns to see if there were any better suggestions. None for Guinea fowl, but a plethora for other critters.

The lovely beginning to our day-long outing (we continued on to Eddison, New Jersey, where we stopped at Costco (mobbed with holiday shoppers), Kam Man Oriental Food on the Old Post Road, and a quick flit into Wegman's on our way home) set a proper note for the holidays. And the little teak window box I bought at Atlock's for a modest $15 now holds a line-up of nine 'Israel' paperwhite narcissus. Their delicately scented, pale yellow flowers will welcome the new year.

Back to Top
---
Saturday, 3 December 2005

Pastured Chickens

Less than 10 miles from my house is Blue Jingler Farm. Jack grew up in the area, and remembers the farm-related activities of his youth. While he has a day job, he, Cheryl, and the boys keep the ambiance of those days with a good size flock of Rhode Island Red hens. There is a discrete sign out on Route 12, letting folks know that if they turn here, there are free-range brown eggs for sale just down the road.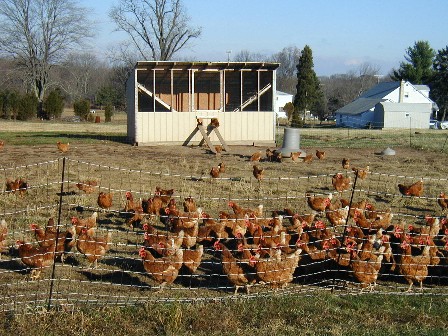 The hens come running when I approach their field, hoping for a hand-out.

A modest roofed stand at the head of their driveway has a huge picnic cooler, and a milk can with a slot in the side. Carefully lift the lid to the cooler (it's not attached) and - if you're there early enough in the day - you'll find boxes of lovely fresh eggs. Slip two dollar bills into the milk cooler for each dozen, and the transaction is complete. Sometimes there's an egg with a double yolk in the box.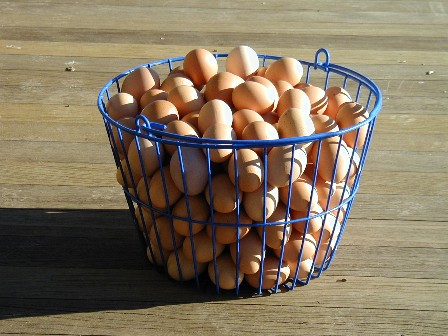 A basket of freshly gathered eggs sits on the porch, waiting to be boxed up for sale

Always, the eggs have the deeply colored yolks and thick whites that tell those who know about such things that the chickens were scratching in the dirt, eating greens and bugs and such, and that the eggs were recently laid. Store eggs from battery hens have pale yolks and thin, runny whites. About the only thing store eggs are better for than freshly laid eggs is hard-boiled. Fresh eggs won't peel easily, and the cooked white adheres to the shell.

And Blue Jingler? That's the name of a certain type of red shale that's found as bedrock around here, a solid foundation for a family farm.

Back to Top
---